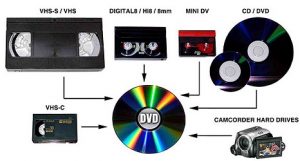 At Mystic Media we've made it our mission to recover thousands of hours of family memories from outdated formats like VHS. Our state of the art VHS to Digital Service is second to none.
The VHS format is outdated, but it's also becoming unplayable. Nowadays it's rare to find a working VCR in most homes, and even more rare to find one at the local mall. VHS cassettes aren't just obsolete however – physically they aren't good stewards of your home movies.
VHS tapes are easy to break and wear out, and many of them only last about 20 years. Durable, high quality thumb drives, digital delivery through our Cloud Drive and DVDs don't have those problems. They're easy to store, customize, and keep for decades.
Our VHS to Digital transfer service is fast, safe, and of the very highest quality.
Our highly trained technicians process each of your VHS tapes from beginning to end, giving them their full attention and making sure that everything is perfectly preserved in all of its original glory. Every birthday party, holiday get together, wedding reception – keep them all with you with the power of our VHS to Digital service.
The DVDs you'll get back from us can be custom-titled for easy storage and sorting. They can be played on all available formats, including DVD players, computer and laptops, and digital projectors. They are designed to last as long as you own them, and they won't deteriorate like a stack of VHS tapes or your vintage collection memorabilia.
Isn't it about time that you and your memories got back together? Take the first step with our VHS to thumb drive, digital delivery through our Cloud Drive or DVD transfer service.
6 Full Hours
Up to six hours of one tape onto DVD or digital files.
One-to-One
For best quality, each tape is provided its own premium disc, one to one.
Full Resolution
We preserve videos at the original resolution, with no quality loss.
Pro Equipped
We use professional video decks to ensure the best quality playback of old analog tapes.
Real-Time Updates
We've developed an amazing order tracking system that provides you updates every step of the way.
Made in Australia
We process and check every order by hand here in the high-tech studio at Katherine, Northern Territory.
Submit the form below to let our team of experts get in touch with you